Leftover Roti to Mawa Roti Roll Recipe
The other night at the dinner table, my 11-year old and 6-year old were raving about the delicious spring rolls in their canteen. So I decided to come up with my own version of the recipe, altering quite a few things. In this recipe, I have opted to go with a sweet filling, rather than a savoury one. I have used leftover rotis to prepare the rolls. For the sweet gravy or dip, milk (doodh) and condensed milk have been combined with sugar (cheeni). It should have thick porridge-like consistency, and should not be too runny. Chopped dry fruits are sprinkled for crunchy element. For the stuffing, grated coconut and coagulated milk (khoya) have been used. Khoya provides a dairy flavor and gives the filling a thick texture. Cardamom powder (elaichi) is also added for its wonderful aroma. Other spices like cinnamon (dalchini) can also be added according to taste. For serving, the stuffing is cooled and rolled into the rotis. The rolls are complemented by the milky dip. This dish is sure to put a smile across your kids' faces.
If you are looking for more leftover recipes do check  Leftover rice to pakode, Leftover Bread to Uttapam, Leftover Rice to Chatpata Paratha, Cabbage Potato vegetables to baked sesame tikki.
How to make Leftover Roti to Mawa Roti Roll
Ingredients

Leftover Chapati
6
Condensed milk
6-7 table spoon
Milk (Doodh)
½ litres
Coconut (grated)
½ cup
Coagulated milk (khoya / Mawa)
½ cup
Sugar (Chini)
3-4 table spoon
Cardamom (elaichi) powder
½ tea spoon
Chopped dry fruits
3-4 table spoon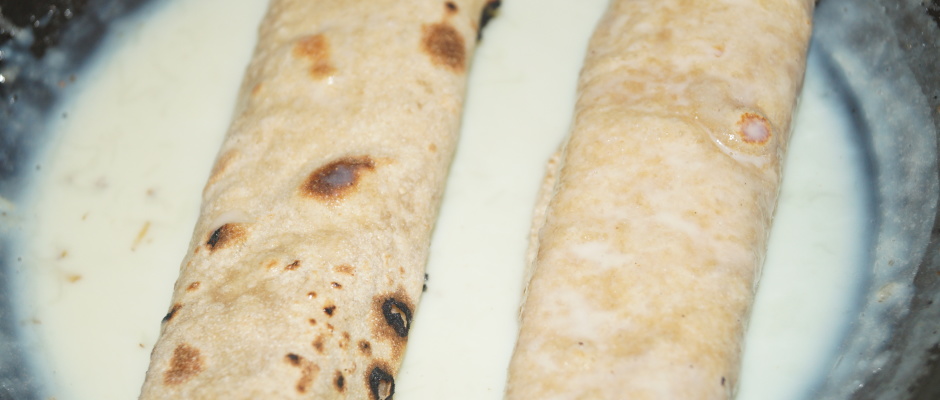 Method
For Milk
1.

Boil milk in a pan, add condensed milk and simmer it for 7-8 minutes.

2.

Add sugar and cardamom powder and let it boil for 2-3 minutes.

3.

Now add chopped dry fruits and put the flame off.

4.

Let it cool for sometimes.
For Stuffing
1.

Heat a pan and add 1 table spoon of grated coconut.

2.

Fry it till it becomes little brown.

3.

Now add coagulated milk (khoya), and roast it for further 3-4 minutes.

4.

Mix little cardamom powder and put the flame off.

5.

Let it cool completely.
To proceed
1.

Take one chapatti and put 3-4 table spoon of stuffing in it.

2.

Now roll the chapatti and dip it into prepared milk.

3.

Serve it chilled.